Mural
It had long been felt that the funds accumulated by the Society were in excess of what a charity of its type needed to hold, and that a beneficial project should be found, on which some of the funds could be spent. In December 2022 the Trustees of the Society's agreed to allocate £10,000 towards a public art project at the Fisherton Street building, whose blank end wall, opposite the start of Water Lane, had always seemed the ideal location for a mural. The owner, was supportive of the idea, and has been fully involved throughout. The remaining costs, around £7000 will be met  from a private donation.
A brief was prepared, to be sent out to selected artists and artistic organisations,throughout the country. It stated that the aim of the project was to be
'An artwork that adds a new dimension to Fisherton Street and to Salisbury, with a focus on the future'
24 eligible submissions came in, from a wide range of artists, a few of them based in Wiltshire. A judging panel was assembled, comprising people involved in the art world locally, a City Council member, representatives of Fisherton Street traders, the owner's agent and Society committee members. Five artists were selected, and given until March 21st to come up with their final designs. The judging panel then met again, and chose two of the designs for a final decision by the Society's Trustees. The choice of the artwork by David Shillinglaw and Lily Mixe was the final outcome.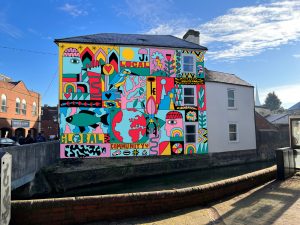 David Shillinglaw and Lily Mixe are partners with Shillinglaw being the product of the fine art degree at Central St Martins while Mixe, went through the French education system, studying at the Ecole des Beaux-Arts.  They live and work in Margate a town which has strong artistic associations with artists including JM Turner and Tracy Emin.  Both have international reputations and have produced murals all over the world both independently and collaboratively including Vancouver, New York and Tokyo. In fact it's probably easier to list international cities in which their work doesn't appear.
Stylistically,  Shillinglaw's work is pictogrammatic and ideographic, two dimensional exploring space both physical and spiritual. He is the equivalent of an artist flaneur wandering joyously through a literal and metaphorical world. His subjects include natural and human themes executed using a strong grid structure supported by a varied and confident colour palette.
Mixe is figurative and literal with a strong emphasis on the natural world particularly ocean fauna explored through her many diving expeditions. Her designs are often executed in black and white line work which is juxtaposed on vivid background patterns defined by a confident use of colour.
Their work couldn't be more different and yet when they work together there is a stylistic cohesion and compromise which works beautifully. This is evident in the mural for 69 Fisherton Street which places emphasis on the riverine world appropriate to its location on the river Avon with references made to global nature as well as local ecosystems,  whilst contributing to the diverse nature  of the area.
Interestingly the selection process coincided with an exhibition of Shillinglaw and Mixe at the Vanner Gallery in Salisbury High Street. This enabled the public to acquaint themselves with the artists as well as contextualising their mural proposal in a meeting with David and Lily. They spoke about their work eloquently and persuasively and their cohesive approach.   David Christie, owner of the Vanner Gallery reported that the Shillinglaw and Mixe exhibition was the most popular and successful that the gallery held with numerous visitors including school parties.
Work on the mural will start in early September and ought to take between a week and ten days weather permitting
Salisbury should think itself lucky that in one aspect, it's on a par with Vancouver, New York and Tokyo!