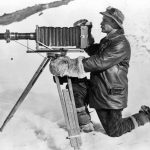 CANCELLED – Blue Plaque to Herbert Ponting
Saturday 21st March 2020
---
In accordance with recent Government guidelines we have taken the decision to cancel this event. Notification of a revised date will be put up as soon as this has been agreed.
A blue plaque to Herbert Ponting, the photographer,  will be installed at No 21 Oatmeal Row, Salisbury marking  the 150th anniversary of his birth on Saturday 21st March.   Herbert Ponting (1870 – 1935) born the son a successful banker in Salisbury  was the official photographer on Captain Scott's ill-fated exploration of Antarctica in 1911, taking early videos, and later making a couple of films about the expedition https://bit.ly/2KJ0Y1I
Wendy Searle will be unveiling the plaque at 4.00 pm.  Wendy, along with skydiving,  motivational speaking and adventure writing, was the 7th woman to ski solo unsupported from Hercules Inlet to the South Pole.  Unbelievably she also has a day job! Wendy will be unveiling the plaque at 4.00 pm.
It will be followed by tea.   All are welcome at the unveiling but there are limited places for tea, which will be allocated on a first come first served basis. If you would like to attend, please contact Janet Patch, 01722 330096, patch.janet@gmail.com.