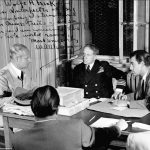 Blue Plaque to Wolfe Frank
Friday 20th November 2020
---
A Civic Society Blue Plaque will be erected to Wolfe Frank at his former home, The Malt House in Castle Street, Mere, on Friday 20th November 2020, which will be the 75th anniversary of the start of both the Nuremberg Trials and the introduction of simultaneous interpretation.  Wolfe Frank was Chief Interpreter at the Nuremberg Trials after the the end of the Second World War.
'Frank, who was implicitly trusted by the judges, the prosecution, defence lawyers and prisoners alike, translated the trials' opening remarks, which were broadcast live on world radio. Thereafter he was used more than any other interpreter, translating one third of the six million words used during the first series of trials alone.' Gillingham News
Time of installation ceremony to be confirmed.