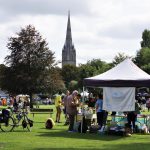 People in the Park
Saturday 18th September 2021
---
We're taking a stand at the People in the Park day hosted by Salisbury Transition City.  Images of our hugely successful awards scheme will be  on display together with visual and written accounts of the work of the Development group and events and visits arranged by the GP team  together with copies of our popular Salisbury in Detail book.
We're always looking for help with our stand but if not do come and say hello, it will  be a fun event with plenty of exhibitors, providing us with an opportunity to meet up with and chat to members and hopefully recruit some new!    We're hoping the sun will shine as enthusiastically as it did last year !
Details of opening times and other attractions will follow.
More about Salisbury Transition City – STC aims to be a catalyst and partner to inspire, encourage and enable those who want to develop a plan for a sustainable Salisbury.  We cannot achieve much alone but when we work and learn from each other, playing to our individual strengths, we can achieve real change.  We are not politically affiliated to any party or movement; the issues are too large and important for that, because we are a grassroots movement, the drive for change will come from the community.
Some of our live events may be subject to cancellation due to developments with the Covid-19 pandemic.  We will always give prior notice of cancellations so please keep visiting the events page for current information.  All events will be subject to current Covid-19 regulations in place at the time.