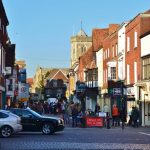 Planning Forum: Future of the High Street
Thursday 11th April 2019
---
The Annual Planning Forum will consider issues relating to the future of the high street, and master planning for Salisbury. The overall context is the significant resources currently being put into 'Salisbury recovery' measures by Wiltshire Council. These include the setting up of a South Wiltshire Economic Recovery team, whose director, Tom Dobrashian, will be speaking at the forum, and the engagement of consultants to facilitate the production of a master plan for central Salisbury. The specific area covered is, in approximate terms, bounded by the ring road to east and north, Churchfields to the west, and the Netherhampton road to the south. Publication of a more detailed master plan, covering specifically the Maltings, is anticipated shortly, and this will also be referred to at the forum.
Other relative initiatives include a bid to the government's Future High Streets Fund, which is being submitted by the Salisbury Business Improvement District, and the Salisbury 'brand re-positioning' exercise, commissioned by Visit Wiltshire. The high street fund seeks to counter the decline of retail, which in Salisbury's case has been compounded by the nerve agent attacks of 2018, while the brand re-positioning is aimed at reversing a decline in visitor number stemming from the same incidents.
It is hoped that the Planning Forum will be able to cover many of these facets of the whole Salisbury recovery effort. It will be held at the Methodist church in St Edmunds Church Street, Salisbury SP1 1EF, on Thursday April 11th, starting at 6.30pm. (Doors open 6.00pm) Free to members, non-members £2.50.