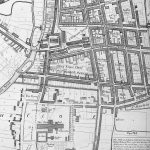 The Museum Collection of Artefacts from the Old Drainage Channels of Salisbury
Sunday 11 September 2022
---
Adrian Green, Director of Salisbury Museum, has kindly agreed to host a unique opportunity to learn about and handle the many and varied artefacts – including a walrus ivory chess piece – rescued from the drainage channels of Salisbury. The original medieval channels provided a unique system of water supply and drainage for both domestic and industrial use, although by the early 19th century they were little more than open sewers causing several severe outbreaks of cholera in the mid 1800's. The old drainage channels, prior to filling in, were gradually drained exposing a wealth of artefacts now housed at the Museum.
There will be two sessions at the Museum both on Sunday 11 September, the first at 2.00pm with the second at 3.00pm
Tickets are £17.00 with a maximum of 20 places per session.
Please click on the following link to book tickets for
Please click on the following link to book tickets for
Venue: Salisbury Museum, The Kings House, 65 The Close, Salisbury SP1 2EN

Please arrive at least 10 minutes before your session so they can start on time