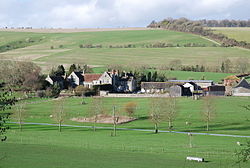 Visit to Norrington Manor (Grade 1 Listed), Alvediston
Tuesday 17th August 2021
---
Back by popular demand!   A further visit, for Society members and their guests, has been arranged to the important and beautiful Grade 1 listed Norrington Manor at Alvediston, Salisbury, Wiltshire SP5 5LL on Tuesday 17th August 2021
Norrington Manor is a medieval manor house which lies in the hills above  Alvediston in the Ebble Valley  about 13 miles from Salisbury . The land  was bought by John Gawen in 1377 during the reign of Richard II. The Gawens were one of the oldest English families and are said to be linked to Sir Gawain, a knight of King Arthur's Round Table.  The house underwent rebuilding work in the mid 1600s but the 14th century three-bay hall,  with Tudor-arched stone fireplace, and 14th century vaulted undercroft survive as well as a vaulted porch and doorway with a king's head corbel.
The owner has very kindly offered to give us a short guided visit and is happy to answer any questions. We can then look around the gardens.  This will be followed by a visit to the beautiful village church of St Mary,  a Grade 1  listed building, founded in the 12th century and restored in the 17th and 19th centuries, Sir Anthony Eden, Prime Minister of the United Kingdom from 1955–1957 is buried in the churchyard  There will be a short talk on the rich history of the Church and points of interest.
You may wish to follow the visit with lunch,  there are several very good  local pubs:   The Crown at Alvediston, The Horseshoe at  Ebbesbourne Wake or The Talbot at Berwick St John.
Ticket price:  £5.00
Bookings: Applications for tickets through Eventbrite: details to follow
Numbers: Max 20
Date: Tuesday 17th August 2021
Start time:  11.00am
Details:    Some of our live events may be subject to cancellation due to developments with the Covid-19 pandemic.  We will always give prior notice of cancellations so please keep visiting the events page for current information.  All events will be subject to current Covid-19 regulations in place at the time and please bring masks in case they are needed.