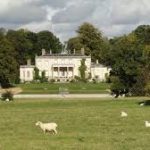 CANCELLED – Visit to Wilbury House, Newton Tony, Wiltshire
Wednesday 13th May 2020
---
In accordance with recent Government guidelines we have taken the decision to cancel this event. Notification of a revised date will be put up as soon as this has been agreed.
A visit to Wilbury House,  Newton Tony, Wiltshire has been arranged for members and their guests on Wednesday 13th May 2020. Wilbury House is a Grade I listed building, and the surrounding park and garden are Grade II listed.
The visit will start at 10.00 am, finishing around 12.00.  We'll arrange the party in two groups of fifteen, one group touring the house first whilst the other visits the garden, there'll be a coffee break midway and then swap.
Address: Newton Tony, Salisbury SP4 0HS https://bit.ly/36dkOev
Cost: £5 for members, £6 for guests.
Please email Brenda Hunt to apply for a place:
brendahunt@clara.co.uk
If the visit is fully booked Brenda will let you know, if you are successful she will ask you to forward your cheque and will issue you with a ticket. (Phone 07774348789 if you are not on email)
As visits have to be booked and paid for in advance we do not issue refunds.
We always welcome suggestions for future visits!