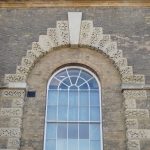 Evening Walk – In the Footsteps of Pevsner
Tuesday 12 July 2022
---
Richard Deane will lead an evening walk around the city on Tuesday 12 July 'In the Footsteps of Pevsner' – a walk looking at insights and revelations from the new Pevsner volume, in central Salisbury on Tuesday 12 July 2022.
Julian Orbach's revision of the Wiltshire Pevsner which he started in 2014 was published in 2021. Julian spoke to the Society twice, in November 2016, when he was working in the north of the county, and then in September 2019, when his work in Salisbury was in full swing.
Several members, who've been consulted along the way, will be particularly aware of the thoroughness and skill which he has brought to bear on the task, and his capacity for making discoveries which add greatly to our knowledge of the buildings of Salisbury and its surrounding area.
Time: The walk will start at 6.30pm
Ticket price:  £6.50
Booking via Eventbrite: https://www.eventbrite.co.uk/e/walk-in-the-footsteps-of-pevsner-tickets-289760420217
Numbers: 10
Meeting Place: Outside the Salisbury Tourist Information Centre, SP1 1EJ