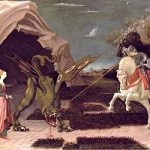 CANCELLED – Walk – St George, Dragons and Medieval Salisbury
Thursday 6th August 2020
---
In accordance with the Covid 19 guidance on social distancing and avoiding large groups we have reluctantly taken the decision to cancel this event.  David has kindly offered to  reschedule the walk  in 2021 and we'll post the new date as soon as know.
Blue Badge guide, David Richards will take an evening walk and talk, introducing us to   St George, Dragons and Medieval Beasts in Salisbury
 St George, the dragon slayer, has been the patron saint of England since the time of Edward 111. The medieval Merchant Guild of Salisbury chose him as their patron saint and the resultant Fraternity of St George effectively ruled the city.  Portrayals of dragons are still scattered throughout  the modern city.  Today Salisbury is also  rich in mythical and modern allusions to other extraordinary creatures. This walk examines the role of animal images, both real and fabulous, in the life of the city .   Discover Salisbury's special historical relationship with St George and the city's amazing range of  dragons, wyverns, griffins, unicorns and other fantastical  beasts.
Start time and ticket prices tbc