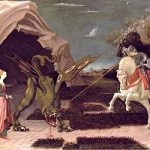 St George, Dragons and Medieval Beasts in Salisbury – Afternoon Walk
Monday 2nd August 2021
---
The celebrated Blue Badge guide, David Richards hosts a guided tour through Salisbury introducing us to St George, Dragons and Medieval Beasts on Monday 2nd August.
The afternoon  walk and talk  gives an opportunity to discover Salisbury's special historical relationship with St George and the city's amazing range of  dragons, wyverns, griffins, unicorns and other fantastical  beasts.   St George, the dragon slayer, has been the patron saint of England since the time of Edward lll.    The medieval Merchant Guild of Salisbury chose him as their patron saint and the resultant Fraternity of St George effectively ruled the city, portrayals of dragons are still scattered throughout  the modern city.  Today Salisbury is also  rich in mythical and modern allusions to other extraordinary creatures.   The tour examines the role of animal images, both real and fabulous, in the life of the city.
Ticket price:  £5.00
Bookings through Eventbrite,  please click on the following link https://www.eventbrite.co.uk/e/st-george-dragons-and-medieval-beasts-in-salisbury-afternoon-walk-tickets-156736855153
Numbers: Max 10
Date: Monday 2nd August 2021
Start time:  2.00 pm (the walk will last approx 1.5 hrs)
Meeting Place:  Outside the Tourist Office in Fish Row, behind the Guildhall
Details:  Some of our live events may be subject to cancellation due to developments with the Covid-19 pandemic.  We will always give prior notice of cancellations so please keep visiting the events page for current information.  All events will be subject to current Covid-19 regulations in place at the time and please bring masks in case they are needed.