Extension at The Knapp, Tisbury
---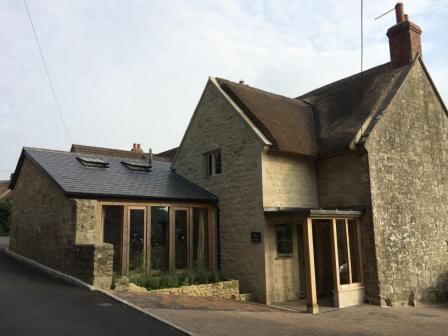 Photographs of this C17th stone house prior to the project showed a fairly uninteresting face presented to the road, with a prominently placed functional but blank garage and an uninspiring house entrance beyond it. This had been transformed by the creation of a gable-ended extension, containing an original window carefully moved from the house rear wall which the new work now covered.
A timber and stone porch attached to the extension created a much more fitting entrance, while the garage doors had been replaced by a new wall with oak framing and large areas of glass, which brought this part of the building to life, and made it a much more integral part of the house. Internally, the work had created a high-ceilinged kitchen out of the garage, with a remarkably spacious feel, and with views out to the road which the owners clearly greatly appreciated.
This engagement with the public realm has also contributed to the setting. All the work had been carefully carried out using materials matching those of the original house, or salvaged from it, and the judges could find little to fault in the project. Unlike some extensions, it had created new facilities and an extension of space while markedly improving the look of the whole building: it was deemed to be just the sort of work which the awards scheme sought to recognise.
Architects: Proctor Watts Cole Rutter