Stonehenge Visitor Centre
---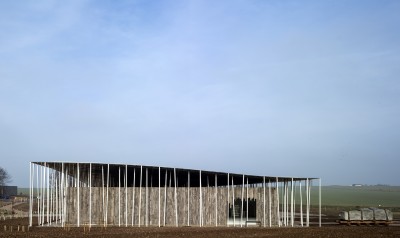 LORD CONGLETON AWARD
The visitor centre clearly had the potential to seriously compromise the character of the Stonehenge world heritage site if it had been handled unwisely. The judges' visit convinced them that in fact both the design approach to the new building, and its detailed execution, were of the highest quality. The low and gently curving roof canopy, with its multitude of thin and angled supports around the periphery, had clearly been aimed at creating a contrast with the monument itself, which lies out of sight beyond.
Below the canopy was another equally effective contrast, between the transparent shop and restaurant, and the solid walled exhibition area. The vertical cladding to the latter, in chestnut wood, was deemed to be a particularly successful detail, its differing widths and colour variations giving just the right level of contrast within the overall mass.
Where openings had been punched through, the interest created at their tops by the irregular termination of the boards was another neat touch. An equal amount of thought had gone into the perforation of the outer parts of the canopy, to create a dappled effect whenever the sun shines through. Underlying the whole project, it seemed clear that questions of sustainability had been properly considered throughout. There were slight variations of view as to whether the car parking could have been made less intrusive, but overall the judges had no doubt that the building was an immensely successful conclusion to the long quest for better visitor facilities at Stonehenge, and fully worthy of the Lord Congleton Award.