Blue Plaques
There are currently 27 plaques, commissioned by the Society, located around the city and surrounding area commemorating links between that location and a famous person or event, serving as a historical marker.  The first plaque commissioned by the Society commemorating  Benjamin Banks, the violin maker,  was unveiled in July 1989, this is the only green plaque,  future plaques being changed to blue.  We have been lucky to work in partnership with Her Salisbury Story on two of our most recent plaques;  to Frances Hale (April 2023)  and Dr Marina Seabright (September 2023) celebrating the extraordinary contribution that women have made to the history and development of Salisbury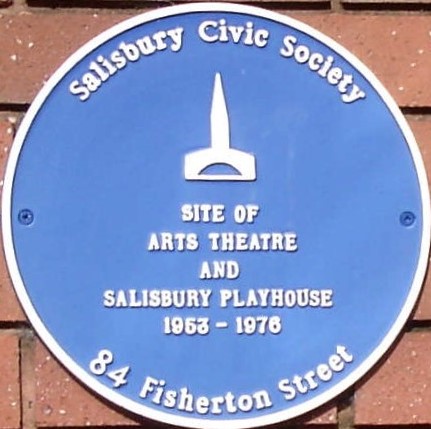 Arts Theatre
A plaque to the former Arts Theatre can be seen on the furniture store at 84 Fisherton Street, at the corner of Fisherton Street and Summerlock approach. The theatre was active between 1953 – 1976, when productions transferred to the Salisbury Playhouse, a purpose-built new theatre in Malthouse Lane.
---
Assembly Rooms
In July 2004, Lt Cdr David Allen unveiled a plaque to the Salisbury Assembly rooms on the side of Waterstones book shop in the High Street. These rooms had been in use from 1802 to 1960.
---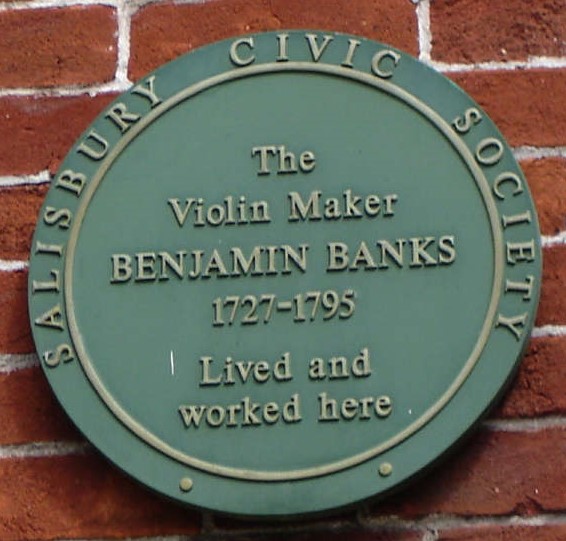 Benjamin Banks (1727 – 1795)
The first plaque commissioned by the Salisbury Civic Society was unveiled in July 1989 and commemorates Benjamin Banks the Salisbury  violin maker. This plaque can be found at first floor level on the Sailors' Society building in Catherine Street. This is the only green plaque in Salisbury, the colour for future plaques being changed to blue. Benjamin Banks had a business in Catherine Street for forty years making cellos, violins and violas. ranking among the finest English makers  of the  C18th.  Bank's instruments are now in great demand and play an important part in C21st music making.  At least two of his instruments are still being played by Salisbury musicians. One of these, a violin, is owned by Salisbury City Council and loaned to the leader of the Salisbury Symphony Orchestra. Benjamin Bank's married Ann Burtt, his wife of nearly 40 years, and his grave is in St Thomas's Church's south churchyard.
---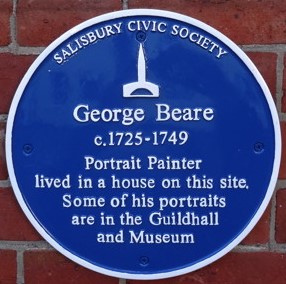 George Beare (1725? – 1749)
A highly talented local artist, taken from us in his prime, is George Beare, a skilled portrait painter with only about forty works credited to him. His death was announced by a short sentence in a small article in the Salisbury Journal of Monday May 22nd 1749: "Last Week died near Andover, Hants, Mr. Beare, lately an eminent Face Painter in this City." Where was he born? Where did he live? Where did he work? Eventually it was identified that he lived in a building which stood where The Chapel now stands in Milford Street. A number of top art critics came from London for the plaque unveiling in December 2012. The Salisbury museum director brought along two of Mr Beare's paintings from the museum and was very pleasantly surprised when the art critics valued his paintings at far more than he expected.
---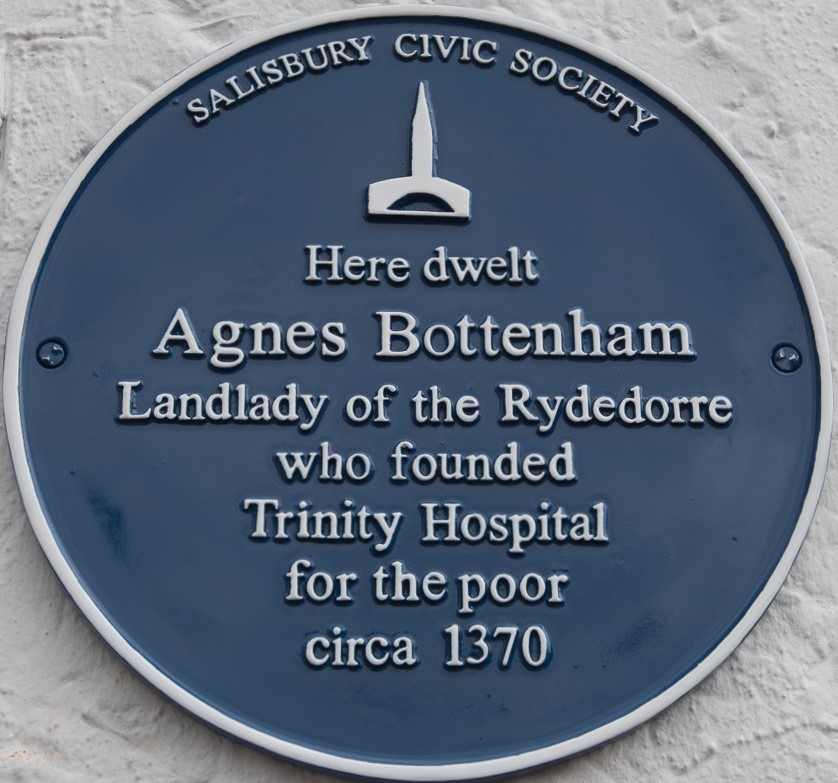 Agnes Bottenham (C14th)
A blue plaque to Agnes was unveiled in September 2017 on the Rai D'Or pub on Brown Street. It reads "Here dwelt Agnes Bottenham Landlady of the Rydedorre who founded Trinity Hospital for the poor c 1370". She established the hospital to give shelter to 12 needy people, and for up to 18 sick people on a temporary basis, at a time when there was little competition to offer this kind of welfare. From then on, Trinity Hospital's charitable work has remained unbroken. Today the office of Salisbury City Almshouse and Welfare Charities is based there. Local archaeologist Phil Harding unveiled the plaque and explained why Agnes was a worthy recipient, despite her reputation as a brothel keeper (which, he thought, might have been somewhat embellished over the years). Perhaps it was out of guilt, a feeling that she had to atone for her past sins, but whatever the motive, she had invested the profits of her enterprise into a magnificent memorial to her public spiritedness. The unveiling event was organised by the Salisbury Civic Society in association with the Salisbury and South Wilts branch of the Campaign for Real Ale (CAMRA).
---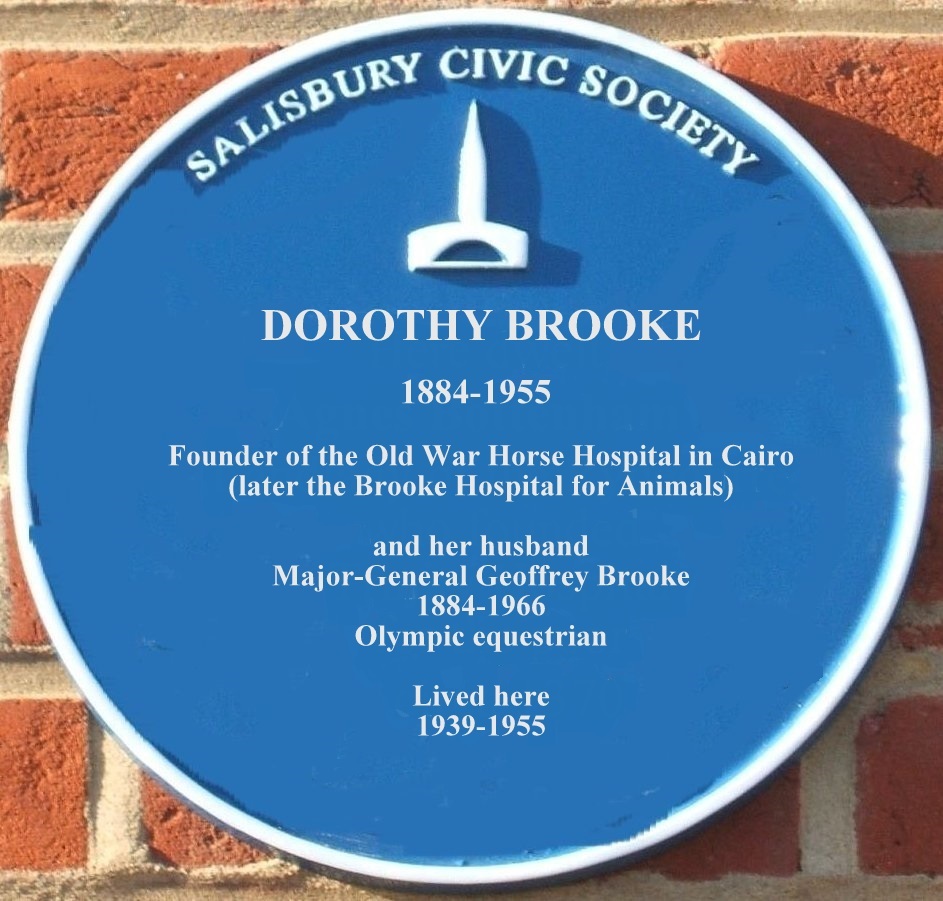 Dorothy Brooke
A plaque to Dorothy Brooke and her husband, the distinguished Olympic equestrian, Major-General Geoffrey Brooke DSO, was installed at Malmesbury House on 15 October 2020. Dorothy Gibson-Craig (Brooke) was born in Salisbury in 1883. She married her second husband, Geoffrey Brooke, in 1926, and moved with him to Malmesbury House in 1939. By then Dorothy, upset by the years of deprivation and suffering experienced by the thousands of surviving war horses that had been sent to the Middle East during World War I, had already set up the precursor of the charity that bears her name. The legacy of the Old War Horse Memorial Hospital that Dorothy founded in Egypt in 1934 endures today in the dozens of international Brooke animal-welfare facilities dedicated to improving the lives of working horses, donkeys and mules across Africa, Asia and Latin America. By the time Dorothy died in 1955 her charity was famed worldwide by all who had equestrian interests at heart.
---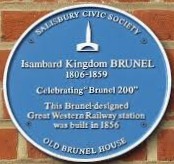 Isambard Kingdom Brunel (1806 – 1859)
A plaque to celebrate Brunel's bicentenary was installed on the side of the old Great Western Railway Station building in November 2006. The work for which Brunel is probably best remembered is his construction of a network of tunnels, bridges and viaducts for the Great Western Railway. In 1833, he was appointed their chief engineer and work began on the line that linked London to Bristol, noted for its introduction of broad gauge in place of standard gauge. Brunel was also responsible for the design of several famous ships. The 'Great Western', launched in 1837, was the first steamship to engage in transatlantic service; the 'Great Britain', launched in 1843, was the world's first iron-hulled, screw propeller-driven, steam-powered passenger liner; and the 'Great Eastern', designed in cooperation with John Scott Russell, was by far the biggest ship ever built up to the time of its launch in 1859. Brunel was also responsible for the redesign and construction of many of Britain's major docks, including Bristol, Monkwearmouth, Cardiff and Milford Haven. He died of a stroke at the age of 53.
---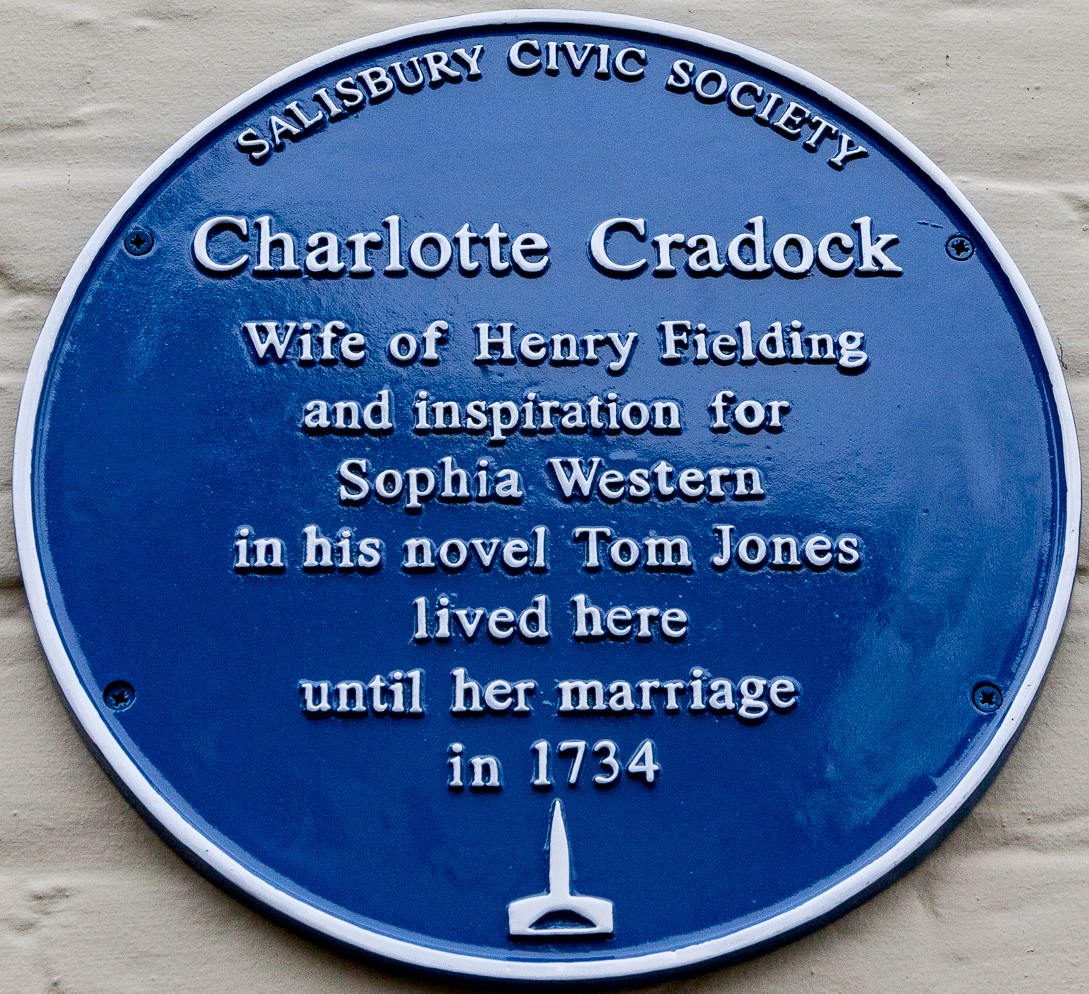 Charlotte Cradock (1712± – 1744)
In January 2017 Henry Fielding's biographer, Professor Donald Thomas, unveiled a plaque at 14a The Close to Charlotte Cradock, the beloved wife of the writer and magistrate, Henry Fielding. She is the subject of his last novel Amelia, outlining the trials and tribulations of their early married life. A more personal elegy comes in Tom Jones, in which her husband brings Charlotte to life as the beautiful, virtuous, high-spirited Sophia Western, one of the most admirable heroines in the history of the English novel. Henry and Charlotte were married on 28 February 1734 and lived in Bath and East Stour for a while before settling in London, where Charlotte's £1,500 legacy was never enough to support Fielding's theatrical career. He struggled as a journalist, read for the bar, and began to practise. By the end of 1741 he depicts himself as "laid up with the gout, with a favourite child dying in one bed and my wife in a condition very little better in another." The law courts which Fielding frequented were breeding grounds of gaol fever, a form of typhus which may have been brought home to his family. In the autumn of 1744, having at first made a perfect recovery, Charlotte's health declined. She died in Fielding's arms and was buried in London beside the daughter who had died two-and-a-half years earlier.
---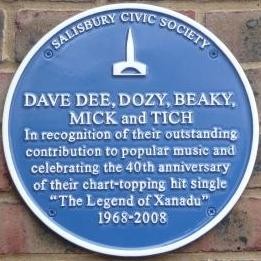 Dave Dee, Dozy, Beaky, Mick and Tich
In March 2008 a plaque was unveiled at the City Hall to this flamboyant group, which was formed in Salisbury in 1964 and became one of the UK's top pop bands of the 1960s. Between 1965 and 1969 they spent more weeks in the UK singles charts than any other band, including the Beatles, and their "The legend of Xanadu" reached Number One in 1968.
---
Henry Fawcett (1833 – 1884)
Salisbury Civic Society combined with Salisbury District Council to put up this plaque on the base of the statue of Henry Fawcett in Salisbury market place. The plaque is unique in that the text is also in braille. How many places can boast of plaques in braille? The plaque was an attempt to satisfy the many tourists who looked at his statue and wanted to know a little bit more about one of Salisbury's most famous sons. Henry Fawcett was born in Salisbury in 1833. In 1858, when he was 25, he was blinded in a shooting accident. Despite his disability he went on to became Professor of Political Economy at Cambridge University and a Liberal MP. Appointed Postmaster General in 1880, he reformed the Post Office by introducing the sixpenny telegram; tablets on letterboxes to show collection times; a savings scheme; and postal orders. He introduced the Parcel Post service in 1883. He also campaigned for equal rights for women and married a notable suffragette. Millicent Fawcett (1847 – 1929) became the president of the National Union of Women's Suffrage Societies and played a key role in persuading Parliament to give women the vote. She was the first woman to be commemorated by a statue in Parliament Square, London.
---
Dr Richard Fowler (1765 – 1863)
Having completed his medical studies in Edinburgh, Dr Fowler set up practice in 1796 in Salisbury, where he spent the remainder of his long life. His plaque was unveiled in September 2010 on the building in St Ann Street where Dr Fowler, at the age of 94, founded the Salisbury Museum in 1860. He died three years later. The Museum remained in St Ann Street until the 1981, when it transferred to its current location in The Close.
---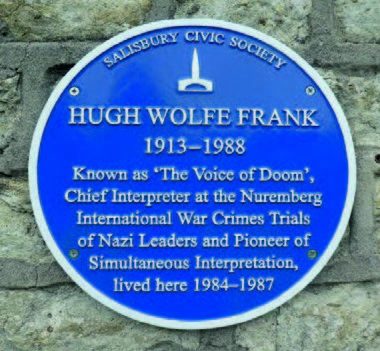 Hugh Wolf Frank ( 1913-1988)
Hugh Wolfe Frank,  as an interpreter at the Nuremburg trials of Nazi war criminals,  translated the court's verdicts of 'guilty'
to the Nazi officers in the dock. Some were to die, others faced a long imprisonment. Born in Germany in 1913, Wolfe Frank fled to Britain in 1937 after learning he was in danger of arrest by the Nazis. At the outbreak of war he was interned on the Isle of Man but campaigned successfully to join the British Army and rose to the rank of Captain.
Following the Nuremburg trials Frank had a succession of careers, ranging from businessman, restaurateur, theatrical impresario to racing car driver, all with fluctuating fortunes.   The plaque, at Mere  commemorates his residence  during the 1980s
---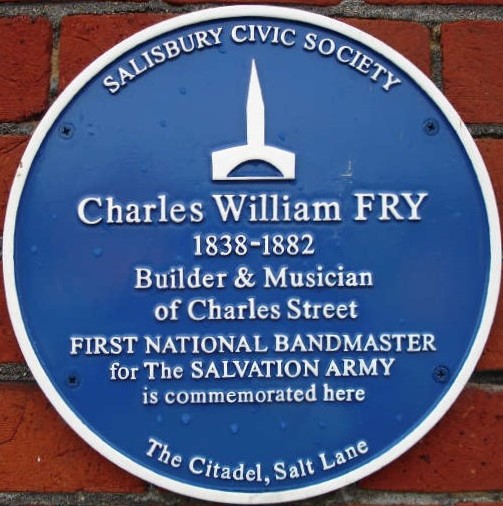 Charles William Fry (1838 – 1882)
Born in Alderbury, he became the first National Bandmaster for The Salvation Army. A bricklayer by trade, like his father, Fry was a versatile musician, playing the violin, cello, piano, cornet, and harmonium, and leading an orchestra and band at the Wesleyan chapel in Alderbury. He also helped the Christian Mission in Salisbury, and his family band accompanied Salvation Army founder William Booth in evangelism campaigns. He died in 1882 at the age of 44. A blue plaque was installed in October 2004 on the Citadel, Salt Lane.
---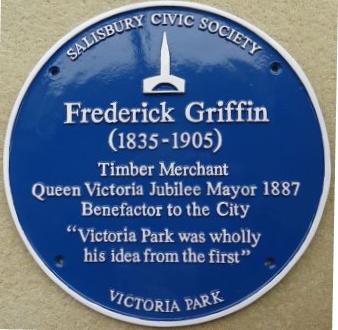 Frederick Griffin (1835 – 1905)
In November 2013 Richard Griffin unveiled a blue plaque on one of the pillars at the formal entrance to Victoria Park in honour of his ancestor, Frederick Griffin. He was a timber and coal merchant who became Mayor of Salisbury and while in that office originated the idea of Victoria Park and acquired the site for the city in 1887. He died of pneumonia in June 1905 at the age of 70.
---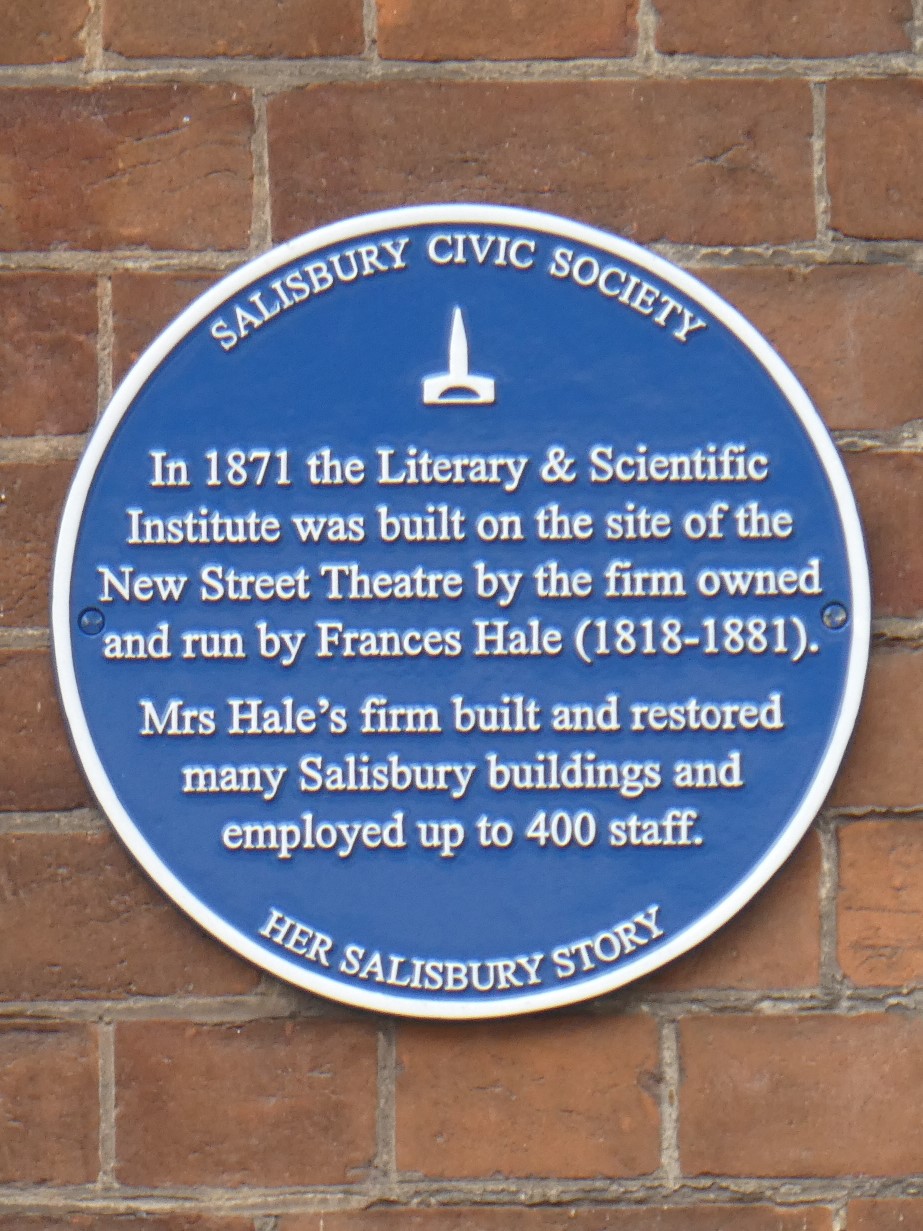 Frances Hale (1818-1881)
Frances Hale 1818-1881 (née Read) was associated with the builder's yard at 36 Castle Street for her entire life, from newborn baby to matriarch of a workforce of over 400 people. One of six children raised by George and Ann Read, aged  22 she married Raymond Hale, a carpenter.
Frances took over the business after Raymond's death.  n 1875 Frances put out another announcement in the Salisbury journal making it clear that the business  was  hers, with her sons as junior partners.
Two of the most striking Victorian buildings in Salisbury were constructed by the business run by Frances. The Literary and Scientific Institution was built in the free gothic style and replaced the demolished New Street Theatre ( Richardson's Wine Stores in the High Street  was built in the Italian gothic style for a long established Salisbury firm – claimed to be the oldest wine merchants in Britain.  In between these two projects were others which impacted the public life of the city and surrounding area. These included building Durnford village school and schoolhouse, building the Baptist schoolroom in Brown Street and restoring Dinton church. She worked with the cathedral's architect, the renowned G.E. Street, when she restored Britford church and again, three years later, when she was involved in a project to build the western transepts of St Peter's church in Bournemouth. This grade 1 listed building is considered one of the finest Gothic Revival churches anywhere in England.
After Frances took her sons into partnership, they built the north aisle of St Paul's church, an extension to cope with the increased population of Fisherton. Three years later, they built the Congregational Church in Fisherton Street to replace a small chapel in Endless Street.  In 1876 they won the contract to rebuild the Alderbury Union workhouse in Coombe Road. Their workforce expanded from 80 to 400 within a year.
Having set up a base at Coombe Road, they then fitted out Castle Street to support this larger business. Costs ran out of control and in 1880 the firm was declared bankrupt. The business was sold, but they were allowed to stay on in the accommodation at the yard. A year later Frances died, aged 63. Henry moved to Kent and got work as a surveyor, and Edward set up a small business in Salt Lane. Within five years Edward had reacquired the old premises, and Hale family builders were once more trading from 36 Castle Street.
---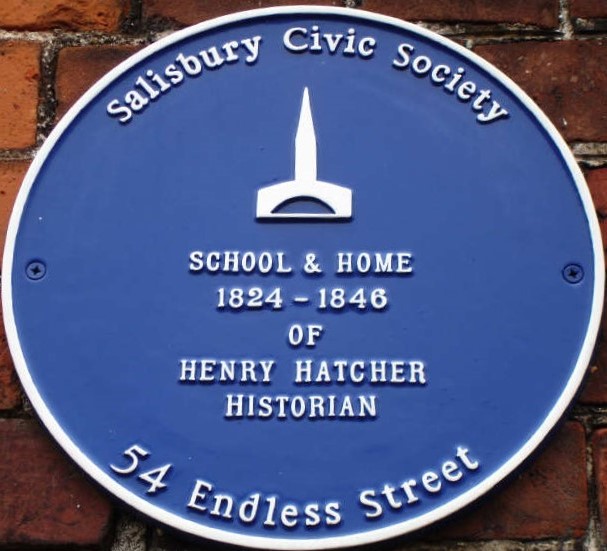 Henry Hatcher (1777 – 1846)
A plaque to the historian was erected on 54 Endless Street. He was also appointed postmaster in 1817, resigning in 1822 to open a private school. He published "An historical and descriptive account of Old and New Sarum or Salisbury" in 1834. He compiled, with Robert Benson, the Salisbury part of the monumental "History of modern Wiltshire", which was published in 1843. His name was adopted for the Hatcher Society, which did research on local history in and around Salisbury, in the final quarter of the C20th. From 1976 to 2001 it published the biannual Hatcher Review, a local history journal whose work has been carried on, since 2001, by the Sarum Chronicle. He is buried in St Edmund's Churchyard, where his monument, near the NW corner, has a slate plaque added to one end. This addition, to compensate for increasingly illegible lettering on the original stone, was a joint enterprise in 1990 by the Hatcher Society and the Civic Society.
---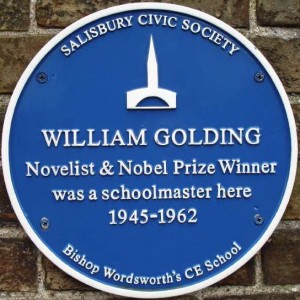 Sir William Golding (1911 – 1993)
In March 2005, Brigadier Alastair Clark unveiled a plaque to William Golding, winner of the 1983 Nobel Prize in Literature, outside the entrance to Bishop Wordsworth's School in The Close. He wrote his first four novels, including "Lord of the flies", while teaching at the school between 1945 and 1962; and his fifth novel, "The spire", is inspired by the construction of Salisbury Cathedral's crowning feature. Between 1958 and 1985 he lived at Bowerchalke, and his residence there is marked by a blue plaque on his former house. This was put up privately, rather than being a Civic Society plaque. He was knighted in 1988 and died five years later, at the age of 81.
---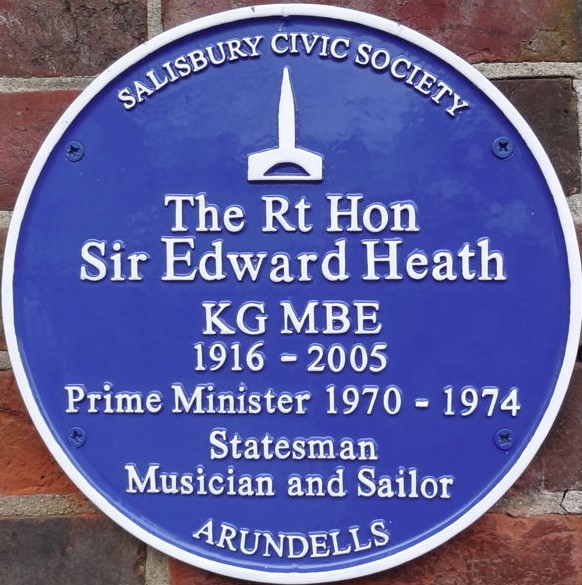 Sir Edward Heath (1916 – 2005)
Unveiled by Dame Rosemary Spencer in February 2012 on Arundells, Cathedral Close, the former Prime Minister's home for the final twenty years of his life. After being elected as Conservative MP for Bexley in 1950, Edward Heath rose steadily through the Ministerial ranks, from Chief whip in 1955, through minister of Labour, Lord Privy Seal, and President of the Board of Trade, to Prime Minister in 1970. Probably his most significant achievement in that role was to negotiate Britain's entry into the European Economic Community in 1973. After losing his second general election in 1974 and the leadership of his party in 1975, he spent the last 27 years of his political career on the back benches. Outside politics he was a world class yachtsman and a talented musician.
---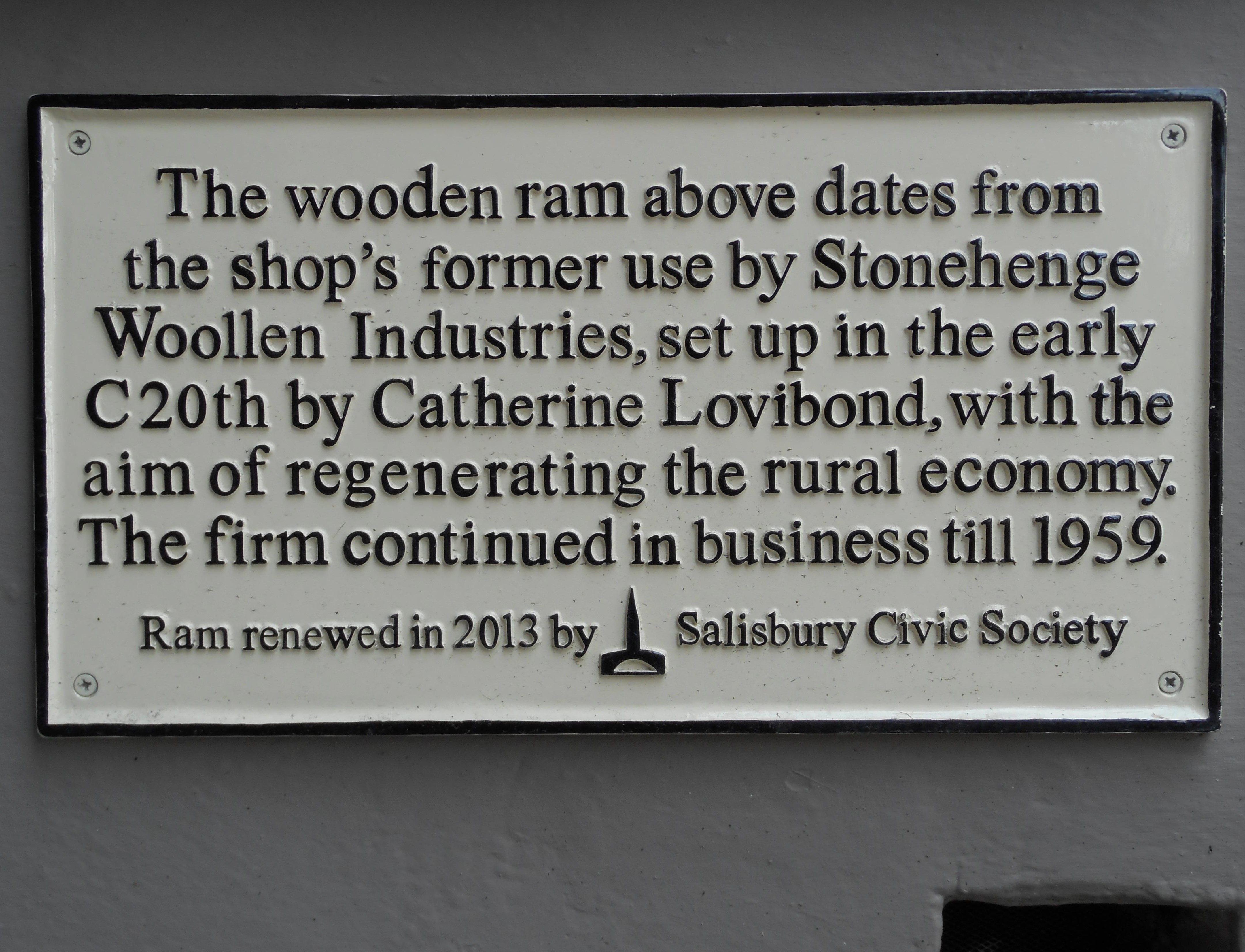 High Street Ram
Dame Rosemary Spencer unveiled in March 2014 an unusual rectangular plaque to celebrate the replacement on 51 High Street of a wooden sheep, erected some time before 1959, when the shop was owned by Stonehenge Woollen Industries. The original animal had largely rotted away by 2010, when its head fell off. The Civic Society, in the absence of a viable alternative sponsor, commissioned from a Bedfordshire woodcarver a replacement that respected the general appearance of the Wiltshire Horn sheep that had inspired the original carving.
---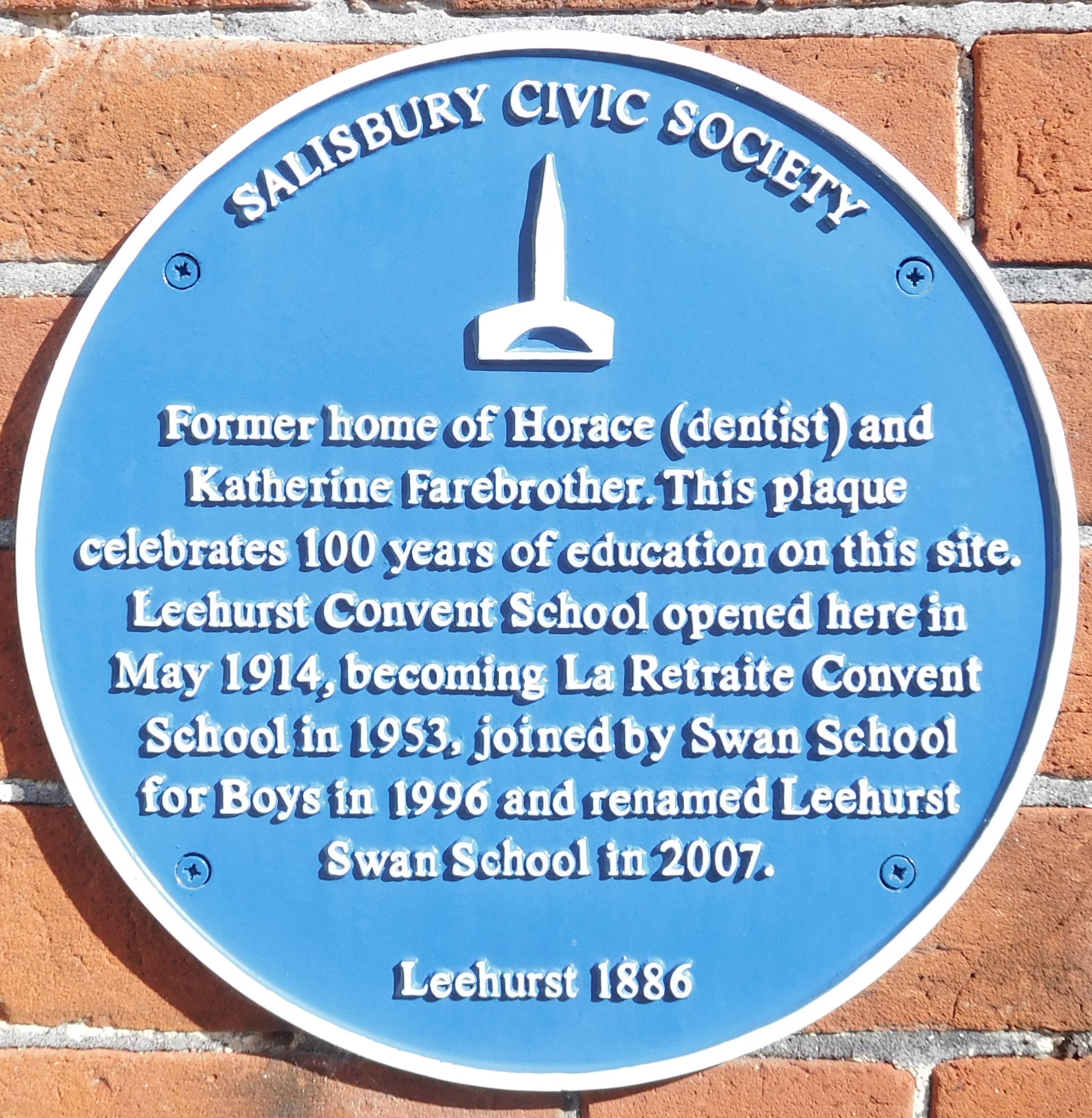 Leehurst Swan School
A plaque was unveiled in May 2014 on the former home of Horace and Katherine Farebrother to commemorate 100 years of education on the site. Leehurst Convent School opened there in May 1914, becoming La Retraite Convent School in 1953. It became a co-educational establishment when it was joined by The Swan School for boys in 1996, and was renamed Leehurst Swan School in 2007. The site is now the school administration block.
---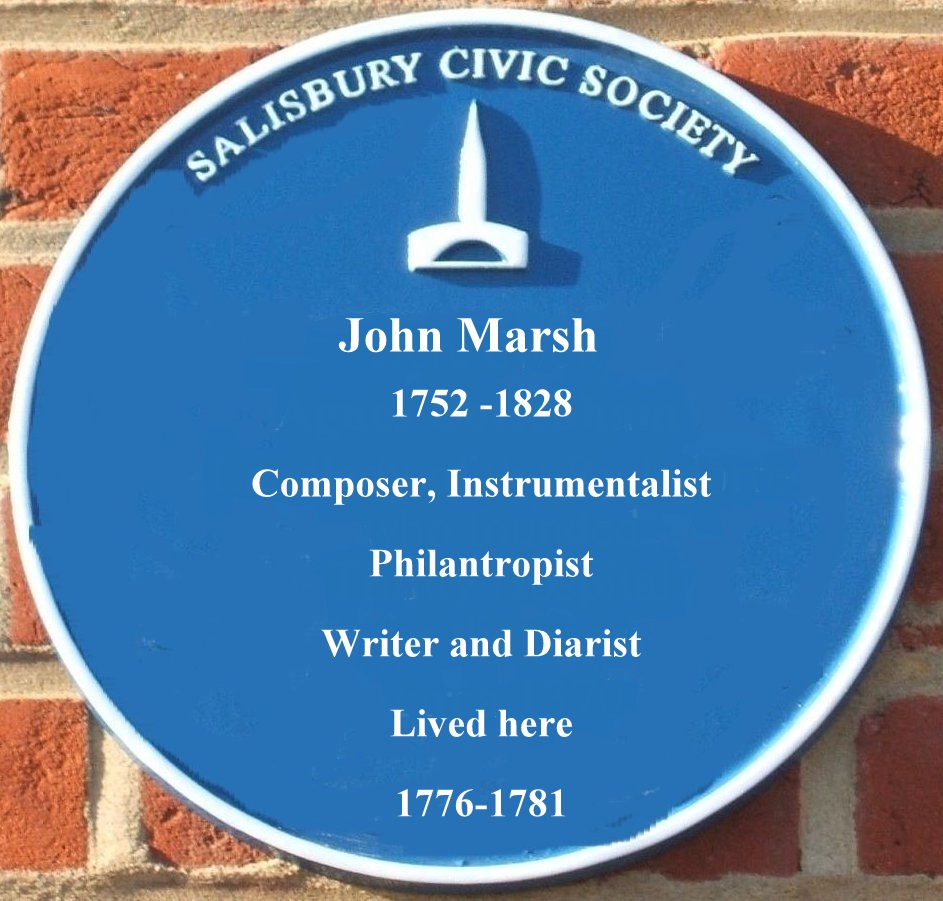 John Marsh (1752 – 1828)
On Sunday 8 July 2018, we were reminded of the existence of a somewhat neglected English composer, John Marsh, through a concert in the Guildhall of three of the symphonies he wrote in Salisbury in the late 1770s, and the unveiling of a commemorative blue plaque on a house in which he lived, now the offices of Myddelton & Major in 49 High Street. The plaque was unveiled by the editor of his diaries, Brian Robins who told us that when Marsh arrived in Salisbury with his wife and baby son, he was a young, recently qualified lawyer with a passion for music. He was taking up residence in what was at the time one of the leading musical centres in England, with a year round subscription concert series and an annual musical festival that drew some of the most prominent London performers to Salisbury each year, plus, of course, music involving the Cathedral… Alongside all this musical activity Marsh recorded in his journals the colourful daily life of the city. After he left Salisbury to take up an inheritance in Kent he remained in touch with his many friends here and often returned for the music festival. Indeed, he made his final visit to Salisbury just weeks before his death in 1828 to attend the festival.
---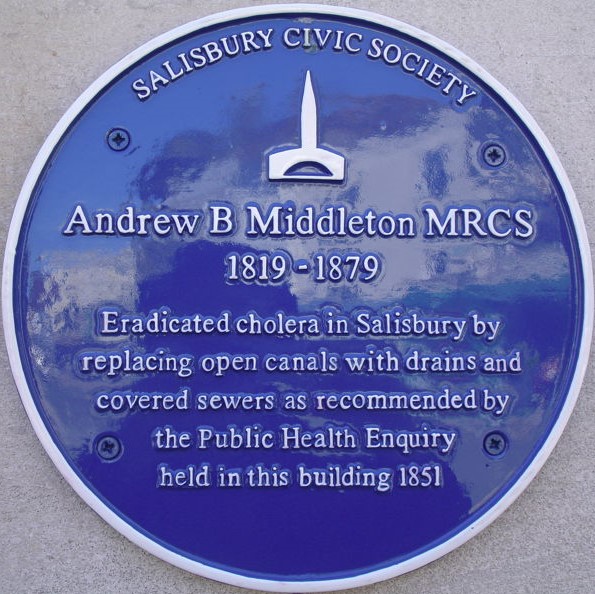 Dr Andrew Middleton (1819 – 1879)
Unveiled in June 2010 by Dame Rosemary Spencer at Waterstones in New Canal. Dr Middleton contributed greatly to the eradication of cholera in Salisbury in the mid-19th century by instigating a public health enquiry in the Salisbury Assembly Rooms (now Waterstones) in June 1851.
---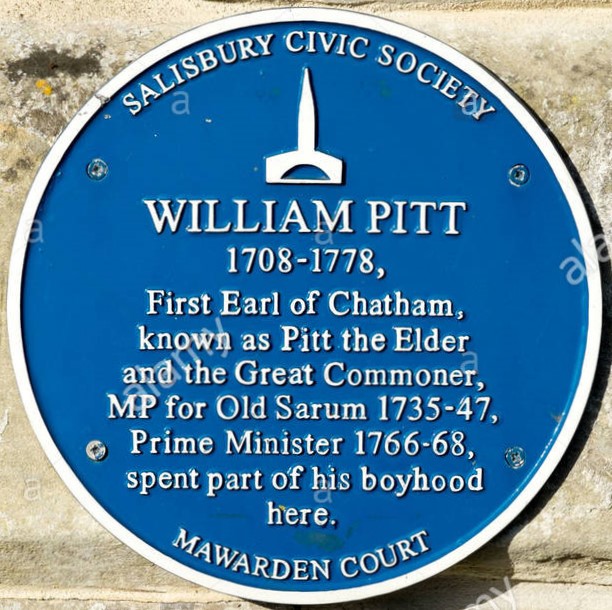 William Pitt the Elder (1708 – 1778)
This plaque, installed in July 2008, can be found on Marwarden Court gate entrance at Stratford Sub Castle. Pitt was MP for Old Sarum between 1735 and 1747 and Prime Minister from 1766-68. He spent part of his boyhood at Marwarden Court. Historians call him William Pitt the Elder, to distinguish him from his son, William Pitt the Younger, who also was a prime minister. Pitt is best known as the wartime political leader of Britain in the Seven Years' War, especially for his single-minded devotion to victory over France, a victory which ultimately solidified Britain's dominance over world affairs in the late C18th.  Please note this plaque is currently undergoing repair and will be re-instated when work has been completed.
---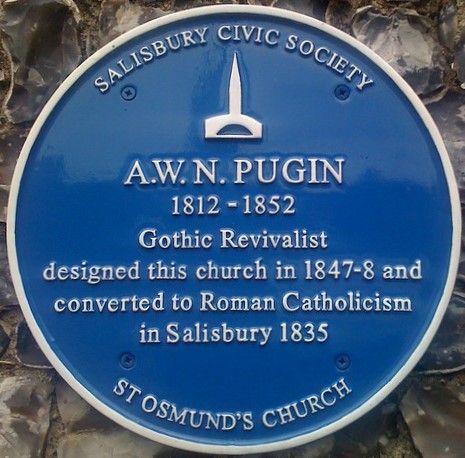 Augustus Pugin (1812 – 1852)
A plaque was erected in June 2007 to one of England's most influential architects, who effectively created our image of Victorian Gothic architecture. Pugin moved to Salisbury with his second wife in 1834, and built an asymmetrical Gothic revival style house in Alderbury. In 1834 he got his very first architectural commission when he was asked to restore the hall of John Halle's house in New Canal: and in the same year, after a fire destroyed the old Houses of Parliament, he was commissioned to design all aspects of the decoration of the new building. In 1836 he published Contrasts, promulgating his vision of an appropriate architecture for his times, and followed this up five years later with The True Principles of Pointed or Christian Architecture, in which he advocated the Gothic style as the only true Christian architecture. By the time Pugin left Salisbury in 1841 he had influenced the path for Victorian architecture to follow; and after his death his ideas were taken up by such luminaries as Sir George Gilbert Scott and George Edmund Street. While in Salisbury, Pugin converted to the Roman Catholic faith, and six years after he left the city he designed and built St Osmund's Church in Exeter Street.
---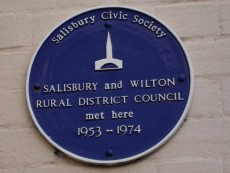 Salisbury & Wilton RDC
Unveiled by Lord Congleton in July 1998. Salisbury and Wilton Rural District Council's first meeting was held at 26 Endless Street in 1953.
---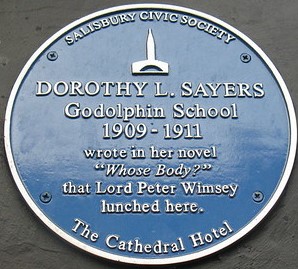 Dorothy L Sayers (1893 – 1957)
Until 2011 there were no Salisbury blue plaques dedicated to notable women. In 2011 a blue plaque was erected to Dorothy L Sayers on the Cathedral hotel. From 1909-1912 Dorothy L Sayers was educated at the Godolphin School in Salisbury. In 1923 she published her first novel, "Whose Body?" which introduced Lord Peter Wimsey and describes how he lunched at the Cathedral Hotel (alias the Minster Hotel) in Salisbury. Lord Peter Wimsey was her hero for 14 volumes of novels and short stories. After the unveiling of the plaque, some 70 people stayed for a special lunch menu which was devised by the hotel with dishes that appear in some of her works. Girls from Godolphin read extracts from Dorothy's books, and the chairman of the Dorothy L Sayers Society brought memorabilia along to display.
---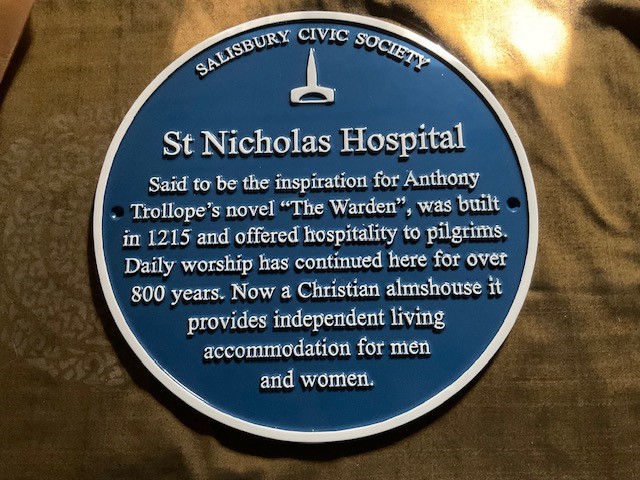 St Nicholas Hospital
The Hospital of St Nicholas in Salisbury is one of the ancient almshouses of England.  Built in 1215  the site has over 800 years of daily worship and service. The hospital lies on the borders of Salisbury and Harnham, just south of Salisbury Cathedral close, by the Old Harnham or Ayleswade Bridge over the Avon and may have been  founded by Bishop Richard Poore.
It is widely acknowledged to the the inspiration for Hiram's Hospital in The Warden by Anthony Trollope.  In his autobiography he writes in July 1852, "It was then more than twelve months since I had stood for an hour on the little bridge in Salisbury, and had made out to my satisfaction the spot on which Hiram's Hospital should stand".
---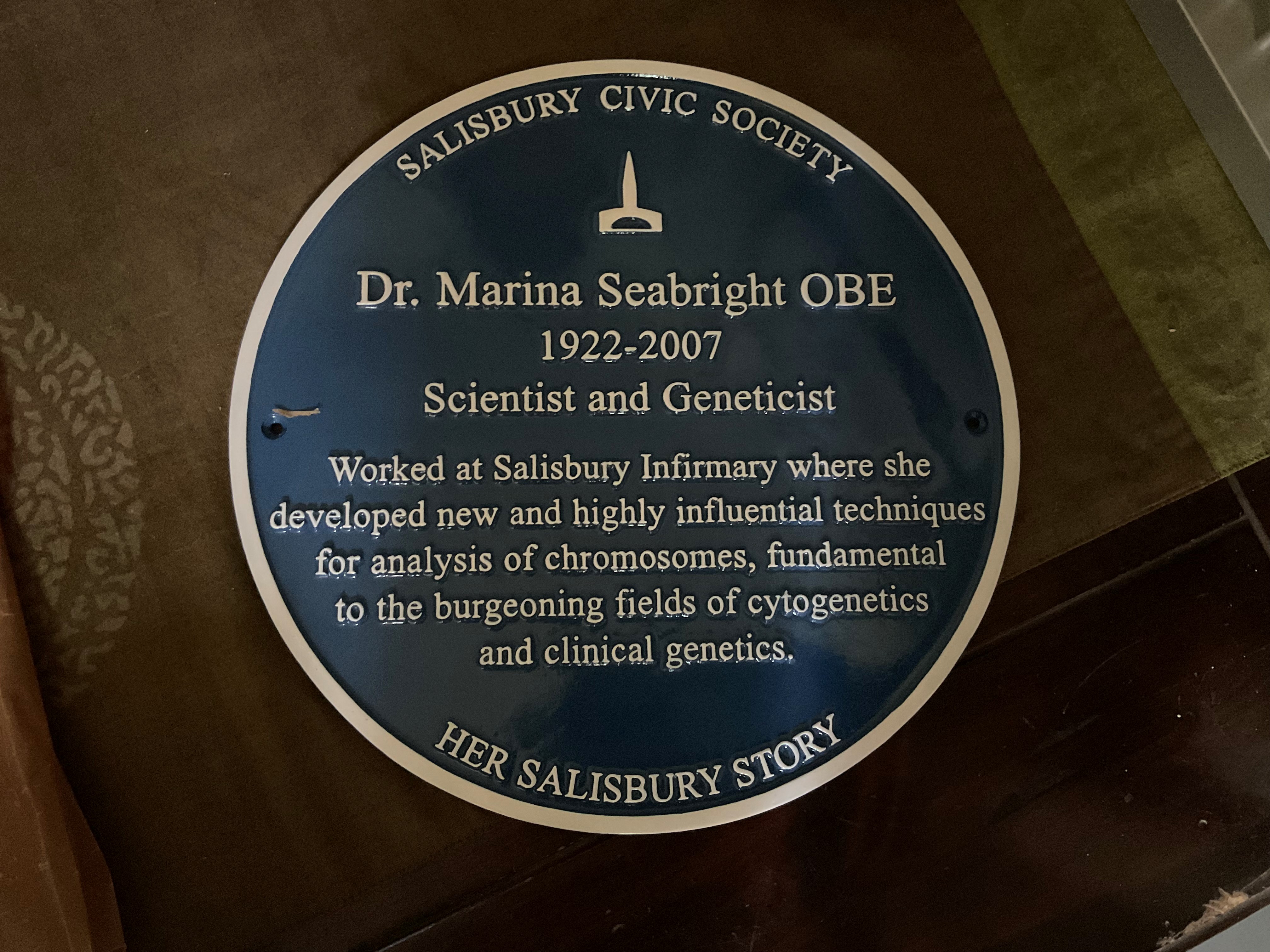 Marina Seabright (1922-2007)
In conjunction with Her Salisbury Story, the Salisbury Civic Society installed a plaque in September 2023  at the Old Infirmary in Fisherton Street to acknowledge the important work of Dr Marina Agostina Corinna Seabright (1922 -2007).
Marina Seabright  was a geneticist, known for discovering the influential trypsin-banding technique for chromosomes and for leading the Wessex Regional Cytogenetics Unit.  Originally from Calabria in Italy, Marina studied medicine in Sicily. She came to England on her marriage to Harold Seabright, an English sub lieutenant in the Royal Navy volunteer reserves and the couple lived in Ringwood, Hampshire for the rest of their lives. In 1947 she began working in pathology at Salisbury General Infirmary.
Her discovery of the method for trypsin G-banding opened up a new era in medical genetics in 1971, and remains the most commonly used chromosome banding technique. Banding techniques are useful because they allow the structure of chromosomes to be more easily identified, and this has many practical applications such as identifying abnormalities in the structure or number of chromosomes.
Marina went on to study the effects of radiation on chromosomes and was awarded a PhD by the University of Southampton for this work. Not long after this, she was appointed Consultant Scientist and Director of the Regional Cytogenetics Unit in Salisbury.    Marina Seabright retired from her appointment as Director on 31 December 1987 and was awarded an OBE in the New Year Honours list. She died in Ringwood in 2007.
---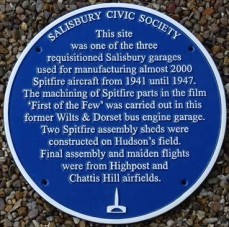 Spitfire Production
On Tuesday 15th September 2015 the Salisbury Spitfire Production plaque on 141 Castle Street was unveiled by Norman Parker, an 89 year old engineer who worked on the Spitfire production at High Post. This, perhaps the most celebrated of Salisbury Civic Society's blue plaques, recognises the incredible effort the citizens of Salisbury put into manufacturing Spitfire aircraft during WWII. The building was on the site of one of the three requisitioned Salisbury garages used for manufacturing almost 2000 Spitfire aircraft from 1941 until 1947. The machining of Spitfire parts in the film 'First of the Few' was carried out in this former Wilts & Dorset bus engine garage. Two Spitfire assembly sheds were constructed on Hudson's field. Final assembly and maiden flights were from Highpost and Chattis Hill airfields. The story of the Salisbury Spitfires is one of ordinary people doing extraordinary things. Many of those recruited to the scheme had probably never touched an aeroplane before. Yet after what must have been the barest minimum of training, they were building fighters faster than they could be flown away. The 2016 film "Secret Spitfires" has celebrated their achievements.  Please note this plaque has been removed temporarily due to current building works and will be re-instated when works have been completed.
---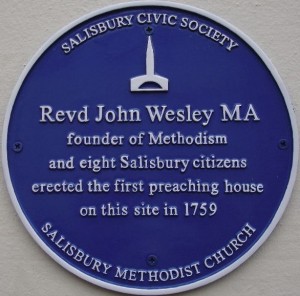 Revd John Wesley (1703 – 1791)
Unveiled by the Mayor of Salisbury, Bobbie Chettleburgh, in December 2009 on the Salisbury Methodist Church in St Edmund's Church Street. A year after Wesley was ordained a priest in September 1728 he joined his brother and others in a religious study group that was derisively called the "Methodists" because of their emphasis on methodical study and devotion. He visited Salisbury in 1738 to see his widowed mother and tell her about a momentous religious experience he had just undergone. In the following years he stopped at Salisbury forty times on his way to the West Country as Methodist groups formed and chapels were built. The first Methodist society in central southern England was set up in Salisbury in 1750 and a suitable building erected in St Edmund's Church Street nine years later.
---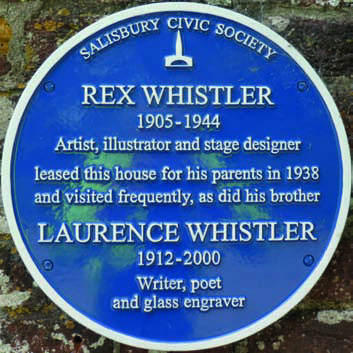 Rex (1905-1944) and Laurence Whistler (1912-2000)
A plaque to the Whistler brothers was unveiled by Laurence Whistler's eldest daughter, Robin Ravilious, on 19 August 2021 at the Walton Canonry, 69 The Close.  Rex was an outstanding artist and designer, who lived in the Walton Canonry for a number of years. Despite his age, he was determined to serve in the war, and managed to join the Welsh Guards in 1940. He was killed in Normandy four years later by a mortar bomb. His younger brother Laurence, a nationally celebrated glass engraver, was married in Salisbury Cathedral with Rex acting as his best man. One of Laurence's glass engravings (a three-sided prism revolving on a small turntable so that the prism's internal reflections completed the image) is housed in the Cathedral's Morning Chapel as a memorial to Rex. In 2013, Salisbury Museum acquired an extensive archive, compiled by Laurence  Whistler, of drawings, book illustrations, stage and mural designs and other material by Rex
---