SUCCESSFUL HERITAGE OPEN DAYS
On Thursday 7th September local archaeologist Phil Harding unveiled a Salisbury Civic Society Blue Plaque dedicated to Agnes Bottenham outside the Rai D'Or pub and restaurant on Brown Street.
The plaque reads "Here dwelt Agnes Bottenham Landlady of the Rydedorre who founded Trinity Hospital for the poor c 1370".
Trinity Hospital was established to give shelter to 12 needy people and for 18 temporary residents who could stay for three days or, if sick, until recovered. At that time it was often the only refuge for the sick in the city.
From then on, Trinity Hospital's charitable work has remained unbroken. Today the office of Salisbury City Almshouse and Welfare Charities is based in Trinity Hospital.
This is the enduring legacy of Agnes's bequest almost 650 years ago and her contribution to Salisbury and generation upon generation of its residents.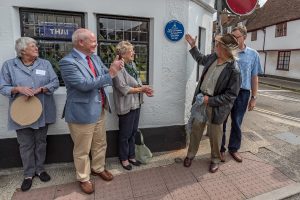 This event at the Rai d'Or was part of the Historic Pubs and Inns themed events for Heritage Open Days co-organised by the Salisbury Civic Society and the Salisbury and S Wilts branch of the Campaign for Real Ale (CAMRA). Other co-organised events in the programme included tours of the Haunch of Venison in Salisbury, the former Three Crowns Inn in Harnham, a Salisbury historic pubs walk, an exhibition of Salisbury pubs and inns in the public library, displays for the 30th anniversary of Hop Back brewery at the Wyndham Arms, and a lecture on Romano-British Beer at Salisbury Rugby Club.
The unveiling at the Rai d'Or was attended by members of Salisbury Civic Society, representatives of Salisbury City Almshouse and Welfare Charities, Salisbury branch of the Campaign for Real Ale (CAMRA), Simon Wheeler owner of the Rai d'Or, and members of the general public.
Salisbury Civic Society's aims include celebrating and commemorating the area's rich heritage and cultural life. The Blue Plaques scheme run by the Society is one of many activities through which it seeks to achieve this aim.